OBITUARY
Ernest Leroy Rhodes
JULY 21, 1967 – JULY 11, 2021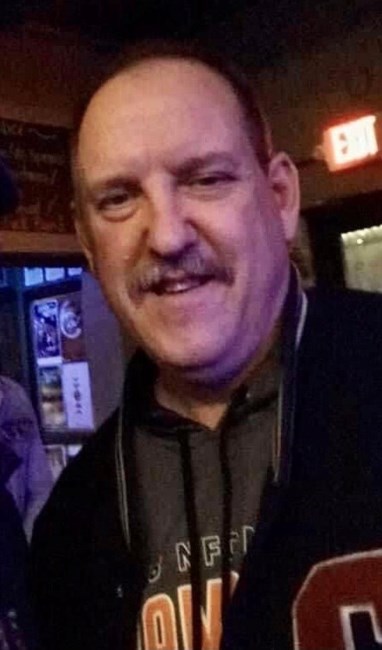 Heaven welcomed a remarkable human being when Dusty Rhodes peacefully passed away on Sunday, July 11, 2021 at home after a long battle with brain cancer. He was the son of Ernest "Ernie" LeRoy Rhodes Jr. and Patricia (Longsdorf) Rogers. He was born July 21, 1967 and grew up in Hinckley/Big Rock, Illinois. Dusty was united in marriage on December 31, 1992 to his wife Abby (Lindblom) Rhodes. They spent the next 28 years together living in the Kendall County Area. He had been employed in the painting/coating industry for many years at different companies. Dusty was also active at his church, Yorkville Congregational Church United Church of Christ, and sang in the choir. He enjoyed coaching his children's athletic teams, and played many different sports throughout his life. Dusty enjoyed playing poker with his local gang, as well as playing poker and bags with his Okie-Vegas friends.
Dusty was preceded in death by his father, Ernest Rhodes Jr.
He is survived by his wife, Abby Rhodes; children, Lauren Rhodes, Megan Johnson and Brett Rhodes; his grandchildren, Liam Rhodes and Chris Johnson Jr. He is also survived by his mother, Patricia Rogers; his sister, Kim (Gary) Baie; niece, Stephanie (Brian) Long all of Hinckley; nephew, Chad (Lindsay) Baie of North Aurora, and many cousins.
A Celebration of Life will be held July 24, 2021 at Yorkville Congregational Church United Church of Christ. Located at 409 Center Parkway Yorkville, IL 60560. Visitation to be held 10am-Noon with a service and luncheon to follow.
………
OUCH. We were not even mentioned. Dusty was adopted in a prearranged adoption. The name on his birth certificate should read, "Michael Patrick Larson" but his adopitive parents chose not to tell him. The story was that he was given up by a young college student. Which is totally a crock. Sharon Joan Ippen Gibbons was his birth mother. The last name Larson came from his Great Grandmother. I am is blood 1/2 sister, Vicki Marie Gibbons. He has 2 other 1/2 brothers Mark Richard Gibbons and Christopher Thomas Gibbons. I found Dusty not even a month after our mother died. (Also found his birthfather ~rip~ William Alfred "Mick" Finnan and more 1/2 siblings) This story is not over.
I have so much to say but it will be in another blog
-vicki-